Chiu Kwan Ng
July 19, 1951 - October 6, 2019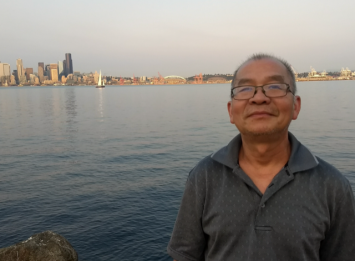 Obituary
Chiu Kwan Ng passed away peacefully in his Auburn home at the age of 68.
Chiu was born on July 19th, 1951 in Hong Kong and immigrated to the Seattle area in 1980 where he had lived ever since.
Whenever he wasn't hard at work with the United States Postal Service he was a prolific artist, specializing in watercolor and calligraphy where his works were admired and appreciated by his friends and family. His passion for the arts was very well known, with libraries of art history books lining the shelves of his home. He admired nature greatly and frequently made it the focus in his pieces.
Besides painting, he had a keen interest in cooking, martial arts films, and fishing. He showed his love by cooking for his family and teaching his children how to prepare authentic Cantonese dishes.
He was a proud father, brother, and friend to many and will sorely be missed. He is survived by his children, Calvin and Crystal, as well as his brother and sisters.
A memorial service will be held at:
Bonney-Watson Funeral Home
16445 International Blvd, SeaTac, WA 98188
The service will be held on October 15th, 2019 at 10:00AM
"I can't think of anything more that could have been done at a time when I needed help and care."
Jean P. Seattle
"We received outstanding service, from front desk to funeral director to family service and beyond."
Deborah M. SeaTac
"The staff went out of their way to show us kindness and helped with several additional needs."
Norma N. Auburn
"The staff was prompt, courteous, helpful, and most of all, caring."
Leslie W. Tacoma
"They really care for people and go out of their way to make things easier."
Kathleen S. Federal Way
"The funeral home is a nice, warm and inviting place. Thank you for your kindness in our loss."
Deborah N. Burien
"We are so pleased with Bonney Watson. They were very professional in every way."
Anita H. Normandy Park